As war rages at home, Ukrainian choir heads to Carnegie Hall to celebrate 100 years of 'Carol of the Bells'
"MuiTypography-root-225 MuiTypography-h1-230″>As war rages at home, Ukrainian choir heads to Carnegie Hall to celebrate 100 years of 'Carol of the Bells'
In 1922, a Ukrainian choir sang the song "Shchedryk" at New York's Carnegie Hall. The tune became a Christmas sensation known as "Carol of the Bells." This Sunday, a Ukrainian choir will once again perform the famous song at Carnegie Hall. 
The WorldDecember 2, 2022 · 3:15 PM EST
Carnegie Hall in New York, May 12, 2020. 
Evan Agostini/Invision/AP/FILE
At St. John's Episcopal Church in New York City's West Village, a choir of 54 girls and boys are practicing the Ukrainian song "Shchedryk" that gave their choir its name.
They're preparing for an upcoming concert at Carnegie Hall called "Notes from Ukraine," that will showcase the famous Ukrainian song and other music, as Russia continues to wage a full-scale war in Ukraine. 
Anastasiia Rusina, 15, joined the choir when she was 4 years old. She said she loves singing and is very excited for her first trip to the US.  The well-lit church sanctuary is a stark contrast from the war-torn conditions back home in Ukraine.
"We have been rehearsing with no light, like, almost all the time, and when there are, like, sirens we would go to the basement and we would rehearse there with no lighting but with our phones," she said.
Esther Volchova, 12, and Olha Fedko, 11, are among the choir's youngest members, also in the United States for the first time. The singers traveled from Ukraine as well as other European cities, where some had fled when Russia invaded Ukraine in February. 
The group is aware that they are on a cultural diplomacy mission. Fedko said she's ready but a little nervous.
"I want to express thanks to them for helping Ukraine," she said of Americans. "And I want them to hear how nicely we sing in Ukraine."
"Shchedryk" comes from the Ukrainian musical genre called shchedrivky, with songs that welcome the start of a new year. 
In 1922, a Ukrainian choir performed "Shchedryk'' for the first time at Carnegie Hall. It later became a worldwide Christmas sensation when, in 1936, American choir conductor and composer Peter Wilhousky wrote new English lyrics that turned "Shchedryk" into "Carol of the Bells." 
But the Ukrainian lyrics have nothing to do with bells, or Christmas, but instead tells the story of a swallow beckoning the head of a household to look for the bounty of the coming spring. 
Ukrainian composer Mykola Leontovych wrote "Shchedryk" in 1916. 
"The story of Shchedryk is the story of the Ukrainian fight for independence," said Tina Peresunko, a leading expert on the history of Shchedryk who is currently a research fellow at National Academy of Sciences in Ukraine. 
In 1917, Russia's imperial Romanov dynasty fell and the first modern Ukrainian state was declared in 1918. During this tumultuous time, the Ukrainian government sent a choir under the direction of Oleksandr Koshetz abroad on a cultural diplomacy mission, hoping to gain allies. They toured Europe and more than 100 US cities, including the 1922 performance at Carnegie Hall. "Shchedryk" was the biggest hit of their repertoire. 
But the Ukrainian republic soon fell and the Soviets killed many Ukrainians while consolidating power. 
In 1921, composer Leontovych was murdered by an agent of Cheka, the Bolshevik secret police that later evolved into the Soviet KGB. Leontovych never saw how his work spread around the world. 
Peresunko said research around the song wasn't allowed during Soviet times and the full history has only been told in recent years.
"Unfortunately, the context of this 100 year anniversary is current because Ukraine today is again waging a war for independence, is fighting against Russian occupation and again Russian propaganda is telling the world the Ukrainian nation doesn't exist," Peresunko said.
The parallels in history aren't lost on Marianna Sablina, the children's choir conductor.
"It happened in a way you could not even dream up. But I think the importance of Ukrainian culture is constant, not situational," Sablina said, referencing the attention Russia's war has brought to Ukrainian culture.
The upcoming concert will also include a world premiere featuring the words of Ukraine's Nobel Prize nominated poet Serhiy Zhadan, written during the current war.
At New York's Juilliard School, where music fills the hallways, composer and teacher Trevor Weston said that a new work called ""Slowly" will premiere at the Carnegie Hall concert on Sunday.
Weston said the new work is more than just another piece. It's a poem in response to war that has a role beyond entertainment. 
"It's a documentation of culture in a war [where] one can arguably say one country is trying to destroy another culture," Weston said. 
"And that makes a lot of sense to me because I think there's a lot of African American music that came from the sheer point of view of resistance. If you can continue to sing your music then you are resisting what people are trying to make you do," Weston said, adding that his identity as a Black American is an important facet to his work. 
Leah Batstone, creative director of the "Notes from Ukraine" concert, hopes culture can help fight propaganda narratives.
"Since the start of the full-scale invasion it's become even more important for us to do this project," adding that "culture is a means of countering the ridiculous Russian propaganda claim that Ukraine isn't a real place with its own history, its own culture," Batstone said.
Batstone began work on the concert before the full-scale invasion and hopes larger audiences hear Ukrainian music.
"As a former musician, as a musicologist, as an educator, I think Ukrainian music is really special and unique and deserves a space in the canon of what is regularly performed around the world," Batstone said.
"Shchedryk" will again ring out at Carnegie Hall and this weekend audiences will hear so much more of Ukraine's musical history both past and present-day.
Will you help our nonprofit newsroom today?
Every week, more than 2 million listeners tune into our broadcast and follow our digital coverage like this story, which is available to read for free thanks to charitable contributions from listeners like you. But less than 1% of our audience supports our program directly. From now through the end of the year, every gift will be matched dollar for dollar by a generous donor, which means your gift will help us unlock a $67,000 challenge match.
Will you join our growing list of loyal supporters and double your impact today?
Count me in!Related Content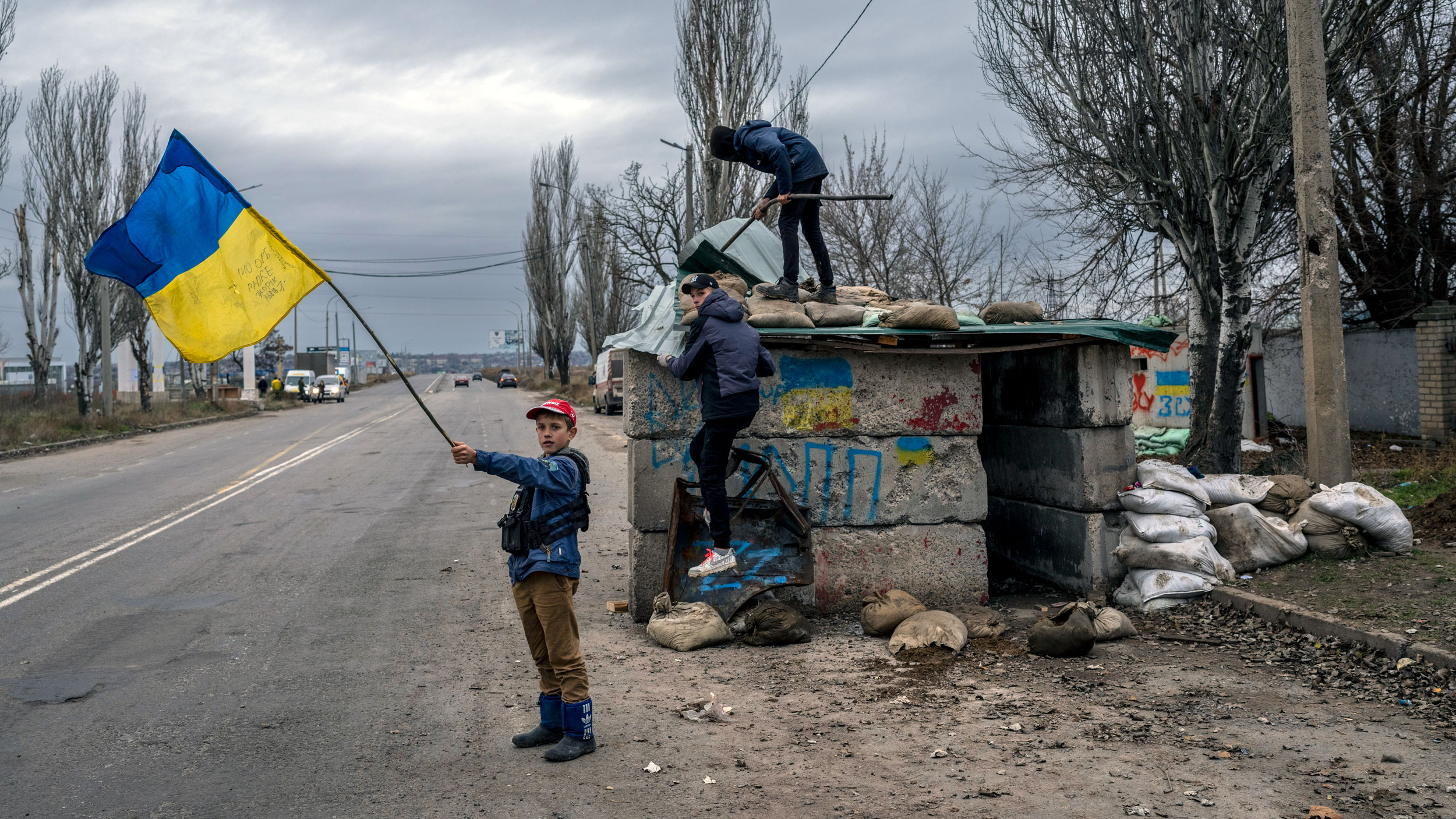 'Chervona Kalyna': This Ukrainian song has become the symbol of freedom and resilience
Investigators look for answers after Russian forces buried more than 400 bodies in a mass grave in Ukraine
North Korea-Russia relations are warming up amid war in Ukraine
Izium was liberated in September. The hard work of returning back to normal has only begun.