Lil Bow Wow
now browsing by tag
Just in case you were somehow previously unaware, Fat Joe is once again making it known that he is a diehard Eminem fan, and unashamedly so.
The "All The Way Up" rapper was on Instagram Live with rapper Bow Wow on Tuesday, when he threw one of his favorite questions to his Ohio native guest. The question was simply to list his person "Top 5" rappers of all time, dead or alive.
Bow Wow's top five included the likes of Jay-Z, LL Cool J, Ice Cube, Snoop Dog, and the legendary 2PAC. The entertainer, who once went by the name Lil Bow Wow, decided to surpass the tally of 5 because he was simply unable to leave the Detroit spitter off his list.
"I was going to throw Eminem in there. I've seen lots of cats asked about their Top Fives and they are not putting Eminem in there. But as far as lyricism and wordplay… I just don't understand how Eminem rhymes the words that do not rhyme, but he makes them rhyme. It's the craziest sh_t in the world," he said.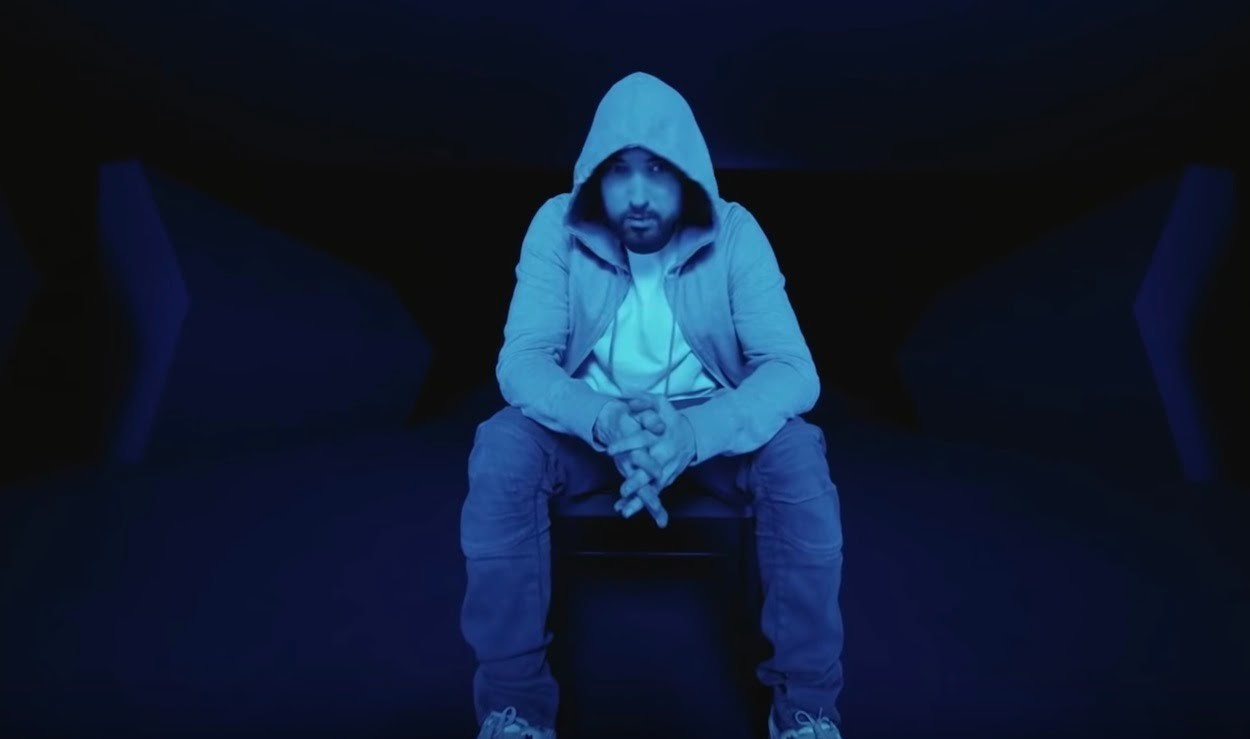 Bow Wow spoke with obvious admiration for Eminem. Joe decided to share just how far his admiration of the Aftermath rapper stretches by revealing he and Big Pun waited in line outside a Tower Records store to buy Slim's debut album.
"Eminem is incredible, he's something else. You know and I know, if he wasn't something else, he wouldn't be where he's at. That man was so exceptional. I remember when Em's first album came out, we was in L.A for the Grammys. Me and Big Pun waited in line, and Pun was nominated for two Grammys, he was already double platinum, and me and him physically waited in line at the Tower Records to buy Eminem's album."
Fat Joe also pointed out the biggest misconception in the rap game is the notion that pushing a 'diss culture' is the way to make their mark in the industry. Joe claimed that all the new white up and coming rappers are of the belief that going up against Em will provide some notoriety, and that's the complete opposite. He even went as far as to say, "The next Peurto Rican rapper don't gotta diss Fat Joe, show me love, I'll embrace you!"
[Intro: Damon Albarn]
Love can be
Love can be
Love can be
Love can be
Love can be
Love can be
Love can be disheartening, darling
Love can be
[Verse 1: Kilo Kish]
Love can be a lot, so maybe not
You can give me all the cash you got
Let me take those keys around the block
Make some memories on daddy's yacht
I'm so over you
You talk a lot of shit, unamused
Ain't putting on the ritz for no dude
I can finish you, I can fill them shoes
You know my name, I'm not your babe
What's that you're saying? I don't speak lame
You know my name, I'm not your babe
If you're thinking of calling, kindly refrain
[Verse 2: Vince Staples]
Wannabes buzzing
Girls love the lifestyle
So prone to clubbing
Come alive when the night's out
Just crashed a sports car
So much for fast life
Phone calls from loves lost
Tryna get back right
[Bridge: Ray J]
Love can be
Love can be
Love can be
Love can be, yeah
Love can be so disheartening, darling
Love can be
Love can be, yeah
Love can be
[Verse 3: Vince Staples]
Tell the world I want my Uchies
Dodge the groupies, them don't move me
Uchies moved me somewhere cozy
Uchies never leave me lonely
Call my phone, say she horny, want me
I can make time or I can make money
I'ma keep countin', count me out, shawty
Never let a bitch Lil Bow Wow me
Never finna weekend raise my seed
Baby mama drama on the TMZ
Alimony money for the nails and weave
Nail me to the cross like that boy JC
Chuckin' up the deuce like the boy Chris Breeze
But we don't suwoop on the six-five street
Riding down the shoreline, tank on E
No shotgun seat, this dick ain't free
[Outro: Vince Staples & Damon Albarn]
Love can be
Love can be
Love can be
Love can be
Love can be disheartening, darling
Love can be
Love can be
Love can be
Love can be
Love can be
Love can be
Love can be disheartening, darling
Love can be
Love can be
[Intro: Damon Albarn]
Love can be
Love can be
Love can be
Love can be
Love can be
Love can be
Love can be disheartening, darling
Love can be
[Verse 1: Kilo Kish]
Love can be a lot, so maybe not
You can give me all the cash you got
Let me take those keys around the block
Make some memories on daddy's yacht
I'm so over you
You talk a lot of shit, unamused
Ain't putting on the ritz for no dude
I can finish you, I can fill them shoes
You know my name, I'm not your babe
What's that you're saying? I don't speak lame
You know my name, I'm not your babe
If you're thinking of calling, kindly refrain
[Verse 2: Vince Staples]
Wannabes buzzing
Girls love the lifestyle
So prone to clubbing
Come alive when the night's out
Just crashed a sports car
So much for fast life
Phone calls from loves lost
Tryna get back right
[Bridge: Ray J]
Love can be
Love can be
Love can be
Love can be, yeah
Love can be so disheartening, darling
Love can be
Love can be, yeah
Love can be
[Verse 3: Vince Staples]
Tell the world I want my Uchies
Dodge the groupies, them don't move me
Uchies moved me somewhere cozy
Uchies never leave me lonely
Call my phone, say she horny, want me
I can make time or I can make money
I'ma keep countin', count me out, shawty
Never let a bitch Lil Bow Wow me
Never finna weekend raise my seed
Baby mama drama on the TMZ
Alimony money for the nails and weave
Nail me to the cross like that boy JC
Chuckin' up the deuce like the boy Chris Breeze
But we don't suwoop on the six-five street
Riding down the shoreline, tank on E
No shotgun seat, this dick ain't free
[Outro: Vince Staples & Damon Albarn]
Love can be
Love can be
Love can be
Love can be
Love can be disheartening, darling
Love can be
Love can be
Love can be
Love can be
Love can be
Love can be
Love can be disheartening, darling
Love can be
Love can be