Yellow Bone
now browsing by tag
DaniLeigh issued a bitter apology after she was forced to respond to colorism accusations.
After the Def Jam singer previewed her new song "Yellow Bone" on social media fans responded with harsh criticism. Not only was she hit with backlash for labeling herself with the black colloquial term but she was also accused of colorism. In the snippet of the track that she posted in a video on Triller, Dani raps, "YELLOW BONE THATS WHAT HE WANT" in the hook.
The singer responded to critics on Instagram asking, "Why I can't make a song for my light skin baddies??" she wrote. "Why y'all think I'm hating on other colors when there are millions of songs speaking on all types… Why y'all so sensitive & take it personal… Gahhhh damn."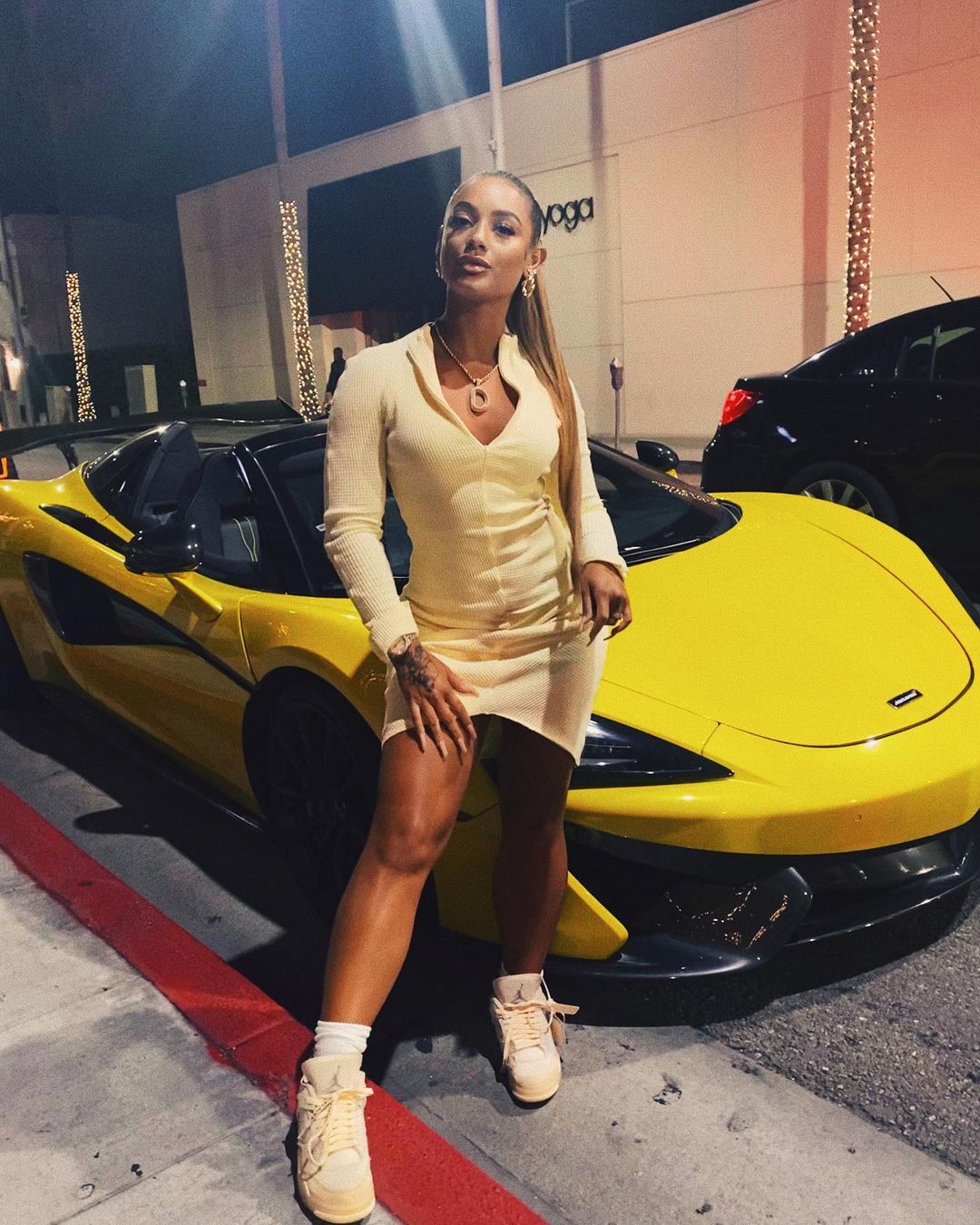 Over on Twitter, DaniLeigh had to address the matter in a spree to ward off some of the negative feedback but it seemed her reaction only fueled the fire. "I'm Dominican…I'm Spanish, I'm Black, I'm white, leave me alone," she tweeted. "Done talking .. bout to post how fine I looked yesterday," she digressed.
Soon Dani was back on the defense and fired off another series of tweets. "Y'all NOT FOR ME," she wrote. "And I said is what he want !!!! Not what the world want … I'm talking bout myself … stop playing w me." Her apology came later but began with her feigning indifference and telling fans that they now have another reason to hate. "only God can 'cancel' me… that sh*t don't mean sh*t to me bc the people around me are the ones that know my heart and intention and real life … I'm sorry if I offended u," she wrote.
Dani Leigh lost me with that "Yellow Bone" song. Yall still makin songs that enforce colorism and fetishization of light skinned ppl in 2021? Being Light Skinned is NOT a personality trait, and sad to say, it's honestly all some of yall got, which is tragic. #DoBetter
— Missy was on the LIIIVE JaQuel!!?? (@Uri_Mercury) January 21, 2021
Dani Leigh really being forced on us while Sevyn Streeter, Justin Skye, & Teyana Taylor are overworking to he heard…… pic.twitter.com/jXR0wW11Av
— ?? (@EPierre_Libra93) January 21, 2021
Actual light skin Black girls are about to be getting dragged for the next 3-5 business days because of Dani leigh non singing ass. pic.twitter.com/oN1KUzLbkW
— _Kyanna_ (@Bronxdiva1) January 21, 2021
Dani however showed no mercy for her cyber "haters" and admonished them for typing "sh*t about another woman." "Ima keep letting God bless me .. while y'all sit back and judge me … y'all all HATERS" she said. One Twitter user criticized the singer's reaction calling it a "terrible response to valid criticism." and reprimanded her for refusing accountability.
"No shade. as a black woman, you should be more than aware of colorism & why this song wouldn't sit well with a black audience. it doesn't feel good having a billion people at your neck, but it's not about being 'canceled.' it's about taking accountability," the tweet read.
Do you think DaniLeigh will still release "Yellow Bone" after this colorism controversy?
View this post on Instagram
View this post on Instagram
View this post on Instagram
[Hook 2x]
Ocean views, small circle it's a chosen few
I wrote it down and I followed through
I bought a pound and we rolled a few
I talk shit but she know it's true
[Verse 1]
Blessings, bitches in my section
Young with all this money, I'm obsessive, weapons
Turning off y'all extras
Turning off this bullshit direction
Turning off my grind
Waking up to mo' pressure
But it's all in yo' mind, so I never feel pressured
Knew it's all in due time, now hunnid stacking like Tetris
Hustle hard is my message, then double back and get extras
Know I spaz when I cash it
Yellow Bone, white Lexus, all black tint, two white cups, fat gold chains, pride, Texas
I'm just young and I'm reckless, I'm just on for my section
I'm just out here on top speed with my top down and I'm revin'
I don't know about Hell, I don't know about Heaven
All I know is 'bout right now and this lifestyle is interesting
Iced down in my section, I just write down these confessions
Niggas died to get life around me, I guess that I'm an exception
Blessings
[Hook 2x]
Ocean views, small circle it's a chosen few
I wrote it down and I followed through
I bought a pound and we rolled a few
I talk shit but she know it's true
[Verse 2]
Look, I'm in these streets with my Cuban on
In my Benz with my music on
Old friends like what have you been on
Shit, I've been on my grind
I ain't usually home, focused, I ain't using phones
Lately I've been using song to get my point across
While niggas 'round me lose it all, but that's your point to toss
I guess I always knew to ball
And as this world revolves I'm cracking 'cuz I do my job
Look, from fucking hood rats to fucking stars
Spending all cash, to sliding cards, it's the definition of living large
Smoking top flight in the biggest cars
Told you '08 this shit was ours, getting this cake, yeah nigga then getting more
Look at this world young nigga, this really yours
Nigga this really mine, my niggas is really for it, them buildings is really high, them cars is really foreign and all I see is…
[Hook 2x]
Ocean views, small circle it's a chosen few
I wrote it down and I followed through
I bought a pound and we rolled a few
I talk shit but she know it's true
[Verse 3]
Yeah, early morning off that flight though
We gon' go hard then get right, bro
It seemed simple, that's not life though
10 years later I'm alright though
Look, these niggas act like they don't like dough
They be mad cuz niggas shine bright though
Look, I got a Ruger and a Bryco
But I'ma let you pick which way tonight go
I got my dough right, plus the right dough
I mean it's legal, pay taxes to them white folks
My precedure, stay crackin 'till my life's low
Then when I die, Blue rag around my rifle
Hunnid thousand in my coffin, that's just life though
Play a Stevie Wonder song, smoke some flight, bro
Crack a pint of Actavis then pour in some Sprite, bro
Until that day I'm walking toward what's in my sights though
'Cuz all I see is…
[Hook]
Ocean views, small circle it's a chosen few
I wrote it down and I followed through
I bought a pound and we rolled a few
I talk shit but she know it's true