Ukraine blocked Georgia's EU candidacy: Tbilisi threatens to expose Kyiv
Saakashvili may become a source of international compromising evidence
The EU leaders could have given Georgia the status of an EU candidate this week, but they did not. As it turned out, the candidacy was prevented by an unexpected adversary, who turned out to be Ukraine's "ex-girlfriend". According to Georgian politicians, she demanded, almost in an ultimatum form, to refuse Georgia's claims to join the European Union. She herself received a recommendation from the European Commission for obtaining the status of a candidate for the EU. Offended Georgia has already promised to "tell everything" about Ukraine.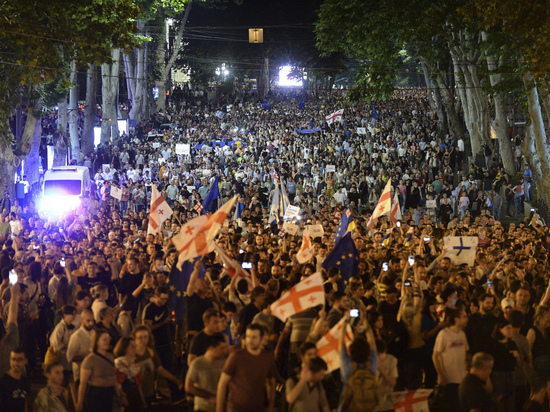 Photo: AP
In support of integration with the EU, a rally of thousands of people took place in Tbilisi in front of the parliament building, but the "little Georgian dream" did not come true. Prime Minister of the Republic Irakli Garibashvili spoke about who prevented Georgia from getting the coveted candidate status. According to him, such a demand to the European Union was put forward by the representative of Ukraine David Arakhamia, who personally visited Washington and Brussels, as well as the parliamentary opposition of Georgia represented by the United National Movement. Europe was practically delivered an ultimatum from Ukraine: "If Georgia gets the status of a candidate, we will be very disappointed," Arakhamia threatened. .
According to Garibashvili, he has some "important and verified" information from colleagues from Europe and America, and will soon be ready to share it with the public if the refusal of the candidacy is confirmed…
David Arakhamia himself rejected the accusations from Garibashvili, sharply accusing the politician of spreading fakes on the order of the Georgian oligarchs. At the same time, the People's Deputy of Ukraine called the current government of Georgia puppet, and also assured that he visited the United States in order to prove that "Mr. Ivanishvili is a pro-Russian oligarch with a puppet government and, in fact, substitutes the ordinary Georgian people who want to go to Europe."
The Georgian government, after the start of a special military operation in Ukraine, refused to put pressure on Moscow, not joining the sanctions measures, which caused strong dissatisfaction on the part of Kyiv, after which relations between the two countries deteriorated noticeably. This opinion is shared by Head of the Caucasus Department of the Institute of CIS Countries Vladimir Valeryevich Evseev
According to the expert, Georgia has its own interest in cooperation with Russia: "Russia did not join South Ossetia by referendum, which is in Georgia's interests. – the expert told Moskovsky Komsomolets, – Secondly, Georgia wants to become a so-called "hub" for the delivery of sanctioned goods, so the interests here are economic and territorial.
Third, Ukraine cannot block Georgia's EU candidacy because it is not itself a member of the EU. Ukraine is always trying to appear bigger than it really is. Georgia has its own relationship with the US, which has a long history. Ukraine cannot worsen Georgian-American relations. It's unrealistic. And Georgia's relations with NATO are more realistic. Georgia, unlike Ukraine, is much more ready to join NATO. But Georgia's neutral position on Ukraine is, of course, an annoying factor for them."
– It will be seen in the fall. What will happen to Ukraine, what state it will be in. Perhaps there will be a complete collapse, and Georgia understands this, and relations with Russia allow Georgia to realize its interests. There is another nuance that separates these two countries – this is the former Georgian President Mikheil Saakashvili, who is now in prison in Georgia. As for the choice of the United States, for them, interest in Ukraine will fall as it loses access to the Black Sea, while interest in Georgia will remain. And against this background, it may even intensify. And Georgia understands this well.
– This information may be related to Mikheil Saakashvili. He is now in prison, and could tell a lot of compromising information about Ukraine and Ukrainian politicians. For example, secret actions between Ukraine and Europe, which the public does not want to know about. Americans are unlikely to be touched, but Europe – please. Especially if she refuses to grant status. And for America, this compromising evidence will only benefit, as it will increase the contradictions in Europe.